Enviro™ AAC Flooring Panel - 75mm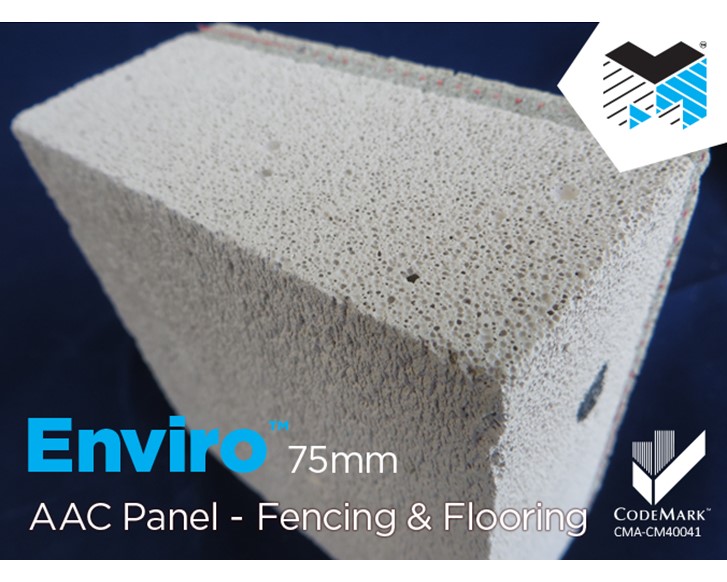 Product Description
Autoclaved Aerated Concrete (AAC) is a lightweight concrete substrate that has all the benefits of building with concrete but it's lightweight. The AAC Enviro Floor panels are 75mm thick.
The panels are fixed to the floor framing of the building using galvanised bugle for timber framing or dual grip hex-head screws for steel framing. The panels are 600 mm wide, with a dry density of 520 kg/m3, about 1/5th that of concrete. Enviro 75 mm floor panels are available in standard length of 2200 mm and upon request can be sourced in 1800 mm panels.
ENVIRO AND THE ENVIRONMENT
Enviro is extremely energy efficient and produces no harmful pollutants during the production process.
1 cubic m2 of a raw material makes 4-5 cubic m2 of actual product saving mass earth production
Inert material is non-hazardous and does not emit harmful gases or vapours
All the waste product at point of manufacture is recycled back into the production process
Economics of Enviro
The thermal properties of Enviro are extremely efficient and should help Architects, builders and homeowners reduce their energy consumption.
Enviro is installed quickly and efficiently thence reducing vital building time during construction. The convenient sizes of the panel allow onsite cutting and wastage to be kept to a minimum.
 Noise reduction
Enviro AAC has the unique ability to absorb noise and has a sound insulation value greater than 7dB greater than other solid building materials of the same weight per surface area. The energy-efficient porous structure produces sound absorption along with mechanical vibration energy dampening, giving new dwellings both privacy in a peaceful surrounding, making this product even more environmentally friendly.
Thermal efficiency
The porous structure of Enviro has an extremely superior R-value rating than that of other masonry substrates combined with the airflow cavity gives the ability to keep home warmer in winter and cooler in summer giving the homeowner the added advantage of extra insulation in their home.(see thermal insulation guide www.masonsplastabrick.co.nz)
Enviro Floor Panels have the following material properties:
| | |
| --- | --- |
| Dry Density | 525 kg/m3 |
| In Service Density | 600 kg/m3 |
| Compressive Strenght 4.0 MPA | 4.0 MPA |
| Bending Strenght | 780N – 1000N or above |
| Dry Shrinkage Value | 0.8mm/m – 0.03% – 0.05% or 0.3-0.5mm/m |
| Water absorption (by volume) | Up to 30-35% |
| Thermal conductivity | 0.12 w/mk – 0.13 w/mk |
| Thermal resistivity | 0.56 m2 k/w |
| Sound Transmission Loss | 35dB for 1000Hz |
| Fire Resistance | 1.5hours – 2 hours |
FOR A FREE SAMPLE OR FURTHER INFORMATION ON THIS PRODUCT.
Contact Masons on: 0800 522 533 - [email protected]
Visit our website www.mpb.co.nz for the full range of Masons Products, 
including Architectural downloads, Warranty's, Product Specifications, and Installation Guides.
Technical Files
Contact
PO Box 101, Silverdale 0944, New Zealand

18A David McCathie Place, Silverdale, 0944, New Zealand