DuPont™ Tyvek® Supro Roof Underlay (2506B)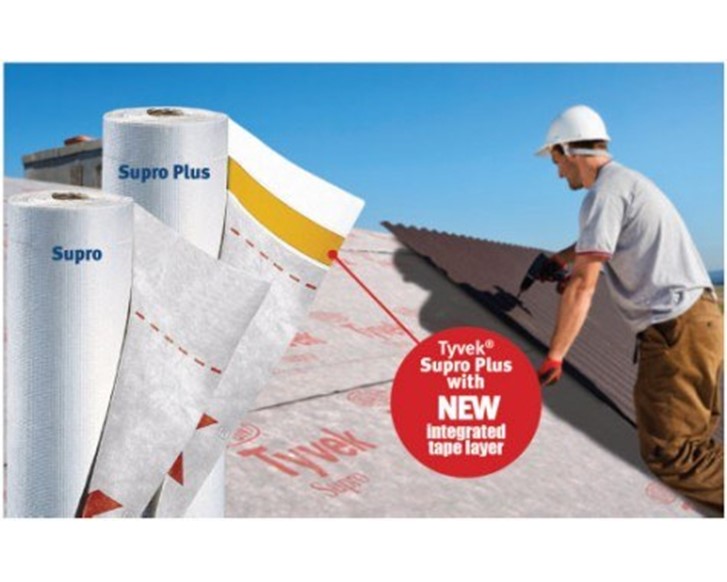 Product Description
DuPont™ Tyvek® Supro Roof Underlay:
Drawing from more than 20 years international manufacturing experience in the field of construction, DuPont™ Tyvek® Supro is a roof underlay that has been proven worldwide to be durable and to perform in extreme environments.
An underlay is a key component of the roofing structure, and provides an important element in the weather tightness of a roof cladding system. The underlay acts as a secondary barrier to water ingress from the external environment while also helping to control internally generated moisture. Their function in terms of building durability is important and their on-going performance needs to be preserved to guarantee the life of the building.
An underlay needs to:
•Resist water and air penetration from above
•Facilitate water vapour transmission from within by retaining and releasing condensed water as required
•Protect insulation – thus promoting energy efficiency
The long-term performance of any underlay (Kraft or synthetic) can be highly dependent on the environmental conditions it is exposed to within the roof cavity. Condensation and moisture related issues can be managed by careful consideration of the roof design, ventilation used and climatic conditions of the area. Refer to the DuPont™ Tyvek® Supro technical datasheet for specific requirements.

DuPont™ Tyvek® Supro – a proven history of performance
Released in 1990, DuPont™ Tyvek® Supro is an original synthetic underlay and has a globally proven history of performance of over 20 years. DuPont™ Tyvek® Supro is part of the Tyvek® range, which has continued to set the standard globally for building membranes.