As Cop 26 ground to a close last week, the construction sector had its turn to be examined by world leaders with resulting demands for urgent change.
Delegates were told at the November 11 Built Environment session, that 20,000 childhood asthma cases and 65,000 adverse birth outcomes could be prevented annually by achieving 'net zero' in big cities like London and Los Angeles. They were told that construction sector carbon use needed to fall.
The New Zealand Government joined the party and announced the goal to halve net greenhouse emissions by 2030. For the building and construction sector, a sector both responsible for a fifth of these emissions this is a big call.
Under current standards, new residential builds emit more than five times the carbon a 1.5°C target allows – requiring a significant 80 percent reduction in carbon emissions to achieve target outcomes. And that doesn't mean simply insulating more and turning off the lights.
That puts the focus onto new technologies, materials and systems to deliver significantly better/lower carbon homes and for rapid upskilling of architects, planners, designers and builders to all play their part.
It means features such as airtight construction, high insulation levels, high-performance windows and mechanical ventilation with heat recovery systems will become standard, as will use of highly efficient heat pump technology and home solar energy. All of these things and more will need to be applied for Aotearoa to transition to a 50 percent emissions reduction within the next nine years, and a net zero carbon economy by 2050.
Whichever way you look at it, in New Zealand, Construction is set for a carbon crunch.
Efficient Energy
While Embodied Carbon is a key focus when building a new development, Operational Carbon is a key consideration – especially as nations commit to reducing reliance on coal to power homes and fossil fuels to power vehicles.
A power cut in the North Island earlier this year due to capacity issues sent a shiver through energy consumers as they had their cold showers that morning.  And while those with exceptionally well insulated homes fared better than others, the irony wasn't lost on most, that at the exact time we need to utilise electricity more, there won't be enough of it.
So, how can we more efficiently use the power we generate better? Or augment the grid with home solar to ensure there's enough to go around?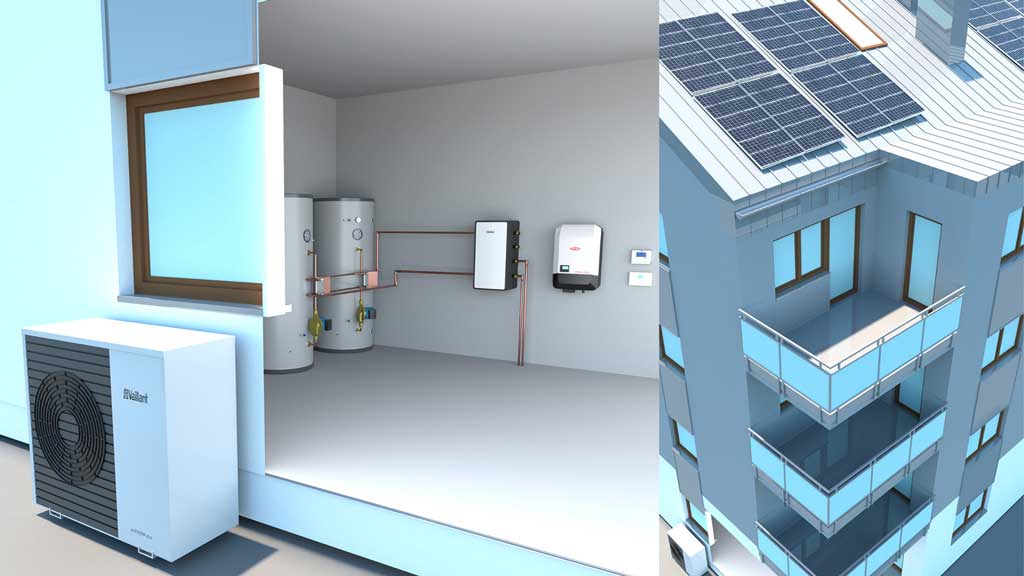 Darren Yearsley, owner of Waterware says the technology is there, we just need some fresh thinking in energy consumption for the home of the future.
"For us, it's not just based on technology of individual products, it's combining different types of products together to create innovative solutions," he says.
As an example, Waterware recently developed a commercial hot water production solution they call 'Net Zero' for a housing and development agency.
"The client was seeking a supplier to provide 30 apartments, each with their own hot water cylinders, and power supplied from a Photo Voltaic (PV) array on the roof.
"The problem they ran into in this particular job was, if you put in 30 electric hot water cylinders into 30 apartments and they all pull three kilowatts each, that's a 90 kilowatt peak draw.
"To offset that with a PV array you've got three basic problems. One, there's physically not enough space on the roof to have a 90 kilowatt system. Two, the capital cost of that system is oppressively high. And the three, they don't have a nice way of integrating the power savings back to the client - how do the building owner charge the client for power, which is produced on the roof, relative to power which comes off the street?"
Waterware's solution required a completely different approach.
They recommended a move to centralized hot water production, producing all of the hot water required for the city apartments from one location. And instead of using 30 standard straight electric elements, they opted for modern high-efficiency water heat pumps, water storage and a very manageable PV solar array.
The results were surprising.
"A normal electric hot water cylinder has a C.O.P (coefficient of performance) of one-to-one: one kilowatt of power in, one kilowatt of hot water out, give or take. But using water heat pumps working in hot water mode, you get a COP of just over three to one: one kilowatt in, three kilowatts of hot water out," Yearsley says.
"Partner that with a five kilowatt PV array on the roof, and you can produce 15 kilowatts worth of heat. So, any investment you make on the roof, you're now getting triple value for.
"The concept for this building was, they were going to have 90 kilowatts worth of electricity dedicated for hot water production. But by engineering water heat pumps correctly, oversizing the storage and lengthening the recovery time, we go from a 90 kilowatt input through a traditional hot water system, to a five kilowatt PV array, running a thirty-apartment building!"
Yearsley says that there are further improvements that can be made to further enhance the system to maximise heating and storage while the sun is shining and coasting when it's not.
"I can adjust the configuration of my PV array relative to the configuration of my hot water duty so that my annual production equals my annual consumption. So now the net amount of power which the building consumes to produce this hot water, is either zero or surplus. Most systems we've got a slight overproduction."
This solution had both an economic and social outcome. A key metric was that the apartment building's target clients are 'energy poor'.
"If you give them an electric water cylinder and a panel heater on the wall, they'll switch them off because they feel they can't afford the electricity.
"Now we can deliver them hot water - it's not possible for them to switch it off and you don't have to charge them for it. Because once you've invested the capital, the running cost is pretty much close to zero."
In these sustainability things, I think the approach is: you don't have to go with less. If you design the systems correctly, you can live in complete comfort without killing the planet. It's not one or the other.
What I tend to find is a lot of the pushback, which comes from environmental programs, is it's like you're trying to punish the consumer. You're scolding them for killing the planet and creating carbon. It's very stick, and not a lot of carrot, but the approach which we take to sustainability and the environment is: you can live in comfort!
Floor Aware
With the carbon in all parts of the built environment being taken into account in a new build, large components of the interior such as carpets and flooring also play a big part in the sustainability of the building.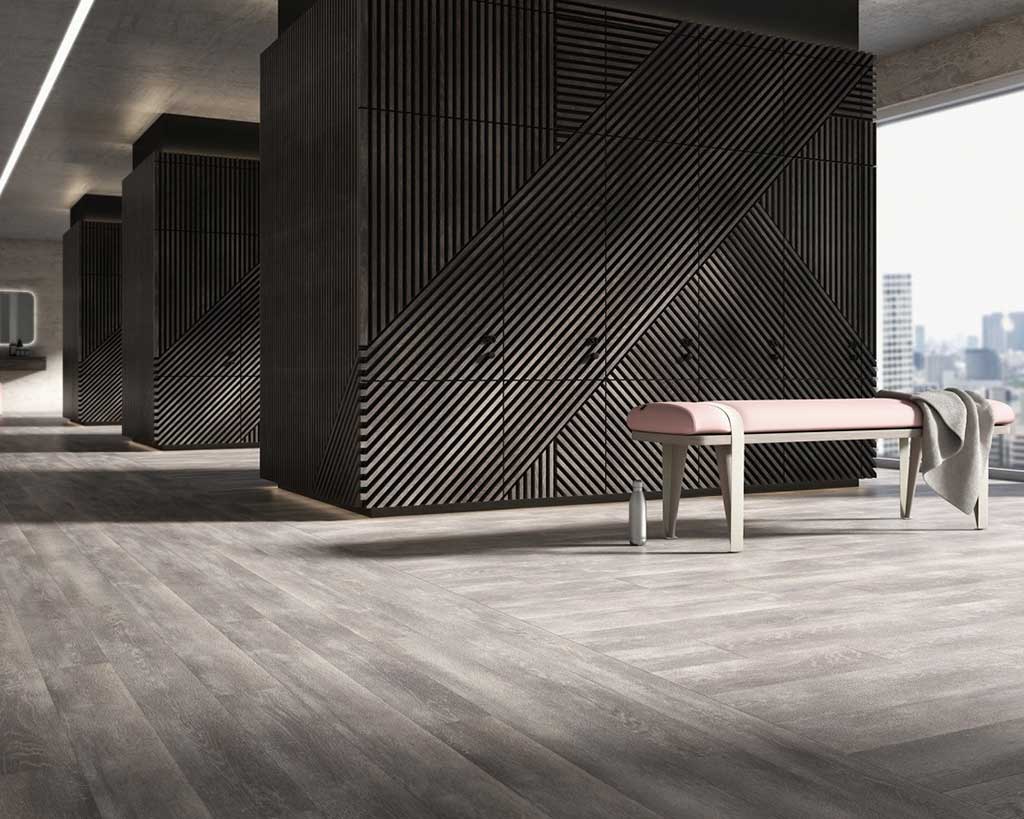 Jacques Venter, National Sales Manager of leading flooring distributor Belgotex, says that it's only in the past two - three years that a product's carbon footprint has become a real issue for customers. But now, he says the snowball effect has got to a stage now where customers all want to see sustainable product options or products that have high environmental credentials.
"It's become a prerequisite, and for us it's great because we've done all the hard yards to make sure that our documentation and our products are good from that perspective".
Venter says that Belgotex is on a massive drive to become more sustainable, and to make sure that the practices that they're doing will lead to better environmental outcomes. As a member of the multinational Belgotex International Group, with seven companies over four continents ,we know that a key part of this is helping the consumer understand what is and is not good for the planet – including what all the different certifications mean.
"From an accreditation point of view, being European-based is quite important, because they are way ahead of Southeast Asia or Oceania in that respect.
"That means our mills are run on clean green principles, using solar energy, reusing water, using reconstituted nylons and raw materials, etcetera.
"We convert our European labels to New Zealand or Australian standards and get them accredited to Green Star, or Homestar, on their material points - a system that proves that what you say about your product is correct. We are very specific on our website with all our information on what products have the Green Tag, BREEAM or LEED certification. We don't hide behind anything. We say, "Look, these are our EPDs (Environmental Product Declarations), and this is how we roll"."
"Our biggest challenge, is trying to bring it all into line, so that you are comparing apples with apples when you're talking about environmental issues," he says.
Venter says that a key is to encourage use of modular product, so at least there is the option of reusing it at a later date, rather than going into a landfill.
"90% of flooring gets changed out just because of an aesthetic or change of ownership, not because the product is actually failing. Some nylon products can last 10 - 15 years on the floor.  Nylon is not the most sustainable type of fibre on the market, but because it lasts so long, you don't have to change it out every four years. That means you don't have to change them around, no adhesive, et cetera, et cetera."
But in some cases, Venter says their efforts to sustainably repurpose flooring can be hampered by some subcontractors' bad habits.
"In the past, flooring contractors have used harmful adhesives, inorganic solvents or similar. Unfortunately, that means you can't, in good conscience, repurpose the flooring product into another school or into another workplace and it just goes into landfill.
"In the last couple of years this has started to change, but we, as manufacturers, are insisting that the trade use environmentally friendly adhesives on our products.  Because if you're building a Six-star Green Building, but the installer uses a contact adhesive which is not environmentally friendly, it could literally wipe all the Green Star points completely."
Venter says other environmental challenges arise from the phasing out of certain materials.
"Europe wants to be out of PVC by 2025. Moving to types of recycled PET backing - made from old TV screens, PET bottles and stuff like that. That means companies will have to change whole production lines to achieve this. It's a big thing."
The push for more sustainable homes also drives other outcomes. Venter says that flooring trends in New Zealand have changed over the last five years, because as houses become better insulated, hard flooring has grown in popularity. "Where they normally would've carpeted their whole house, people will now either rip the carpet up and polish the rest of the floors and just put carpet in the rooms or use rugs instead.
"So, the footprint of the house is leaning way more towards the hard flooring options. And in that you're generally looking at laminates, which are composite backed, pulp timber type products, which are quite easy to recycle and reuse and reconstitute," he said.
The Good News
The challenges are significant, but all is not lost for the sector. Feedback loops mean that all the small actions add up to bigger results.
Thicker walls and more insulation mean there is more embodied carbon used to build a home, but the operational carbon used to heat it, or cool it reduces. Using low-carbon concrete can embodied carbon by around 40% and using raft pods (made from recycled material) reduce the total amount of concrete used as well. Add solar to the home and rainwater collection and the carbon cost reduces dramatically.
And new tools such as BRANZ's development of the New Zealand whole-building whole-of-life framework for example will make it easier for those involved in construction to see where the savings can be made.
Industry needs to continue to look at itself, to learn the language and start being part of the global climate solution.