In the case of French media company Le Monde Group a building paints a thousand words. Its new headquarters, first announced in 2015, is expected to be completed this year and is intended to provide physical expression of the dynamic relationship between media creators and consumers.
The building has been designed by Norwegian design practice SnØhetta, in partnership with local Parisian firm SRA, and the façade is partly inspired by the structure of a newspaper story.  Design renderings show an elongated structure that rises upward in the centre to provide a curving space for a public plaza.
Le Monde is a media icon and since its beginnings in 1944 has built a reputation for the quality of its journalism. According to SnØhetta, the design reflects the relationship between the newspaper and the public, which it believes will feel a sense of ownership towards the building. "The Le Monde Group has chosen a generous, open and accessible model" the design firm adds.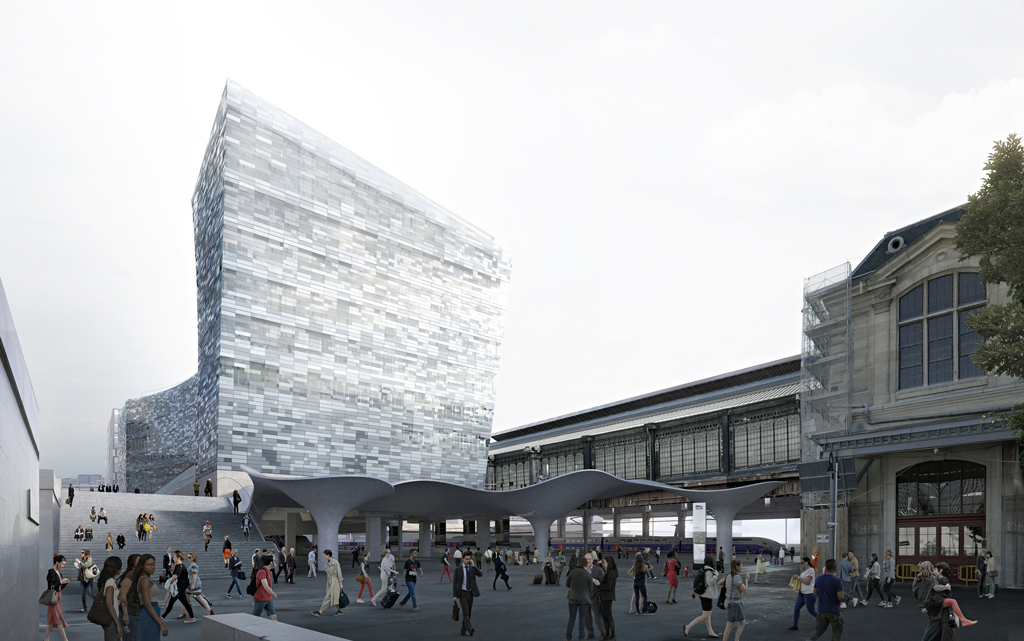 "The intention is that the façade gives the building a homogenous character when viewed from a distance, but at the same time reveals a greater level of complexity as the view approaches – like headlines and detailed content in a news story." SnØhetta continues, "Façade patterns are intended to represent the building as a complete volume, while the distorted pixel map creates a rich tapestry from inside and out."
Alluding to the way a sculptor works with stone, the practice says it has taken a large mass and gradually removed elements. "Our approach has been one of subtraction, taking first a block filling the entire site and subtracting volumes to create entrance areas and public spaces. The subtracted volumes also relate to the existing site planning restrictions and the capacities of the structural grid. The result is that the building becomes a bridge, literally spanning across the site, but also representing the bridge between Le Monde and its readers."
Instead of water passing under the bridge, the designers have created an open public plaza. One half of this area faces the street and the River Seine. It is open, inviting, and contains a visitor center, auditorium entrance, and staff entrance. The other half faces the railway. This receives more direct sunlight, has a café and more intimate landscaping with seating and green areas.
The ceiling curving above the plaza is designed to represent a flow of information, and contains bands of LED lights. The programmable network can provide people with basic illumination or a more abstract representation of the flow of news.
Snøhetta is at at pains to emphasise the dynamic relationship between Le Monde and its public, especially at a time of transition and tension in the way that news is created, distributed and consumed. It has striven for a new headquarters that reflects "the importance of this task in the current debates on the content of freedom of speech."