Part of the evolving masterplan of Tulum on Mexico's Caribbean coast, K'in is a boutique development of 8 family homes with community and sustainability at its core.
Designed by UK based Holland Harvey Architects, K'in aims to set a new standard for environmentally conscious design in Riviera Maya.
From first principles, Holland Harvey worked with local landscape designers, botanists and ecologists to establish an ecological agenda for the project including tree retention, provision of habitats for native species and planting of local fruit plants.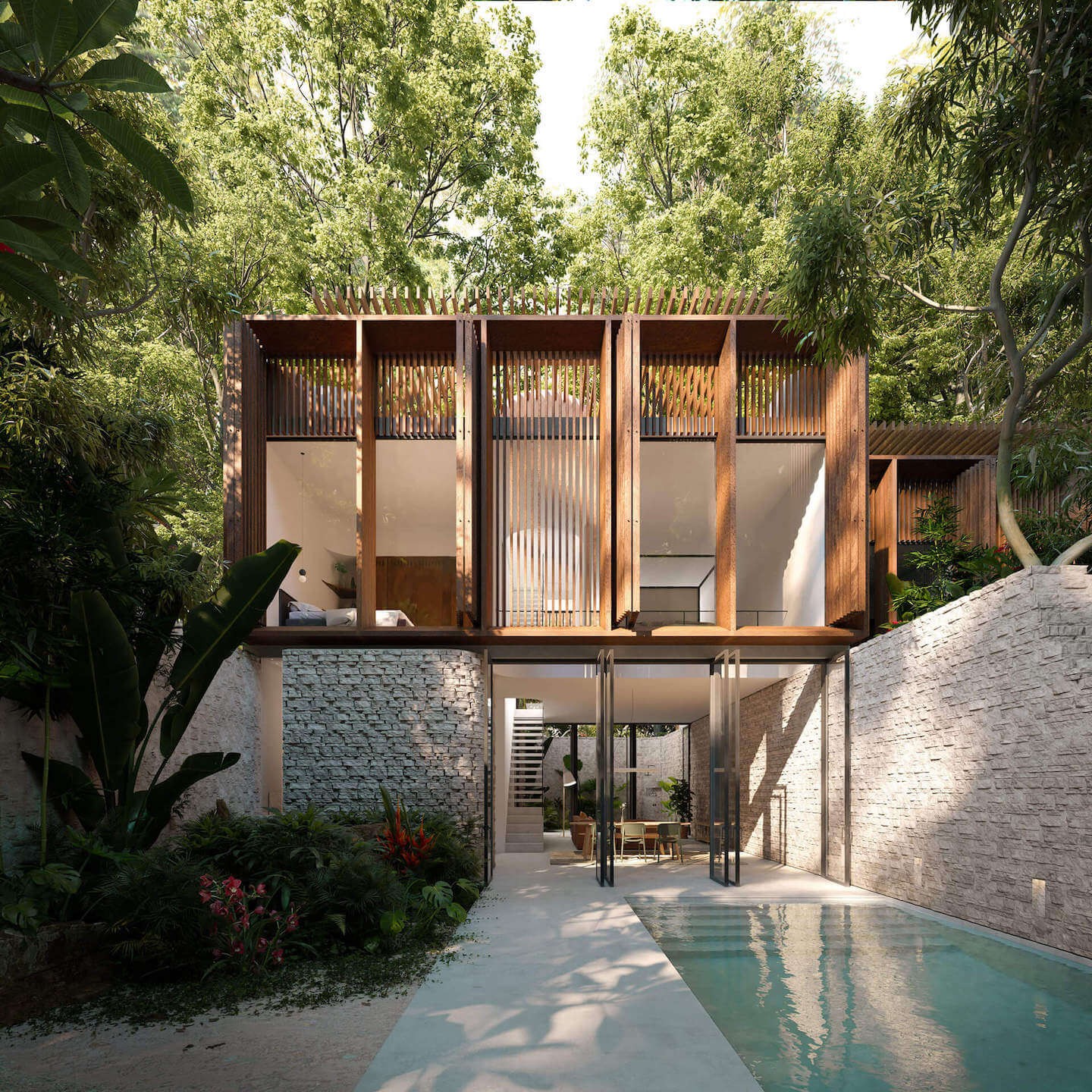 The project has committed to the replacement of any trees that are removed as part of the works, and the landscape will be actively managed to encourage native flora and fauna to thrive. The footprint of the development has been minimised with 60% of the site retained as permeable landscaping or natural jungle floor.
The ground floor is defined by a singular stacked stone wall that frames and supports the upper levels. Formed of abundant local limestone, this striking architectural feature utilises construction waste material from other developments in the area.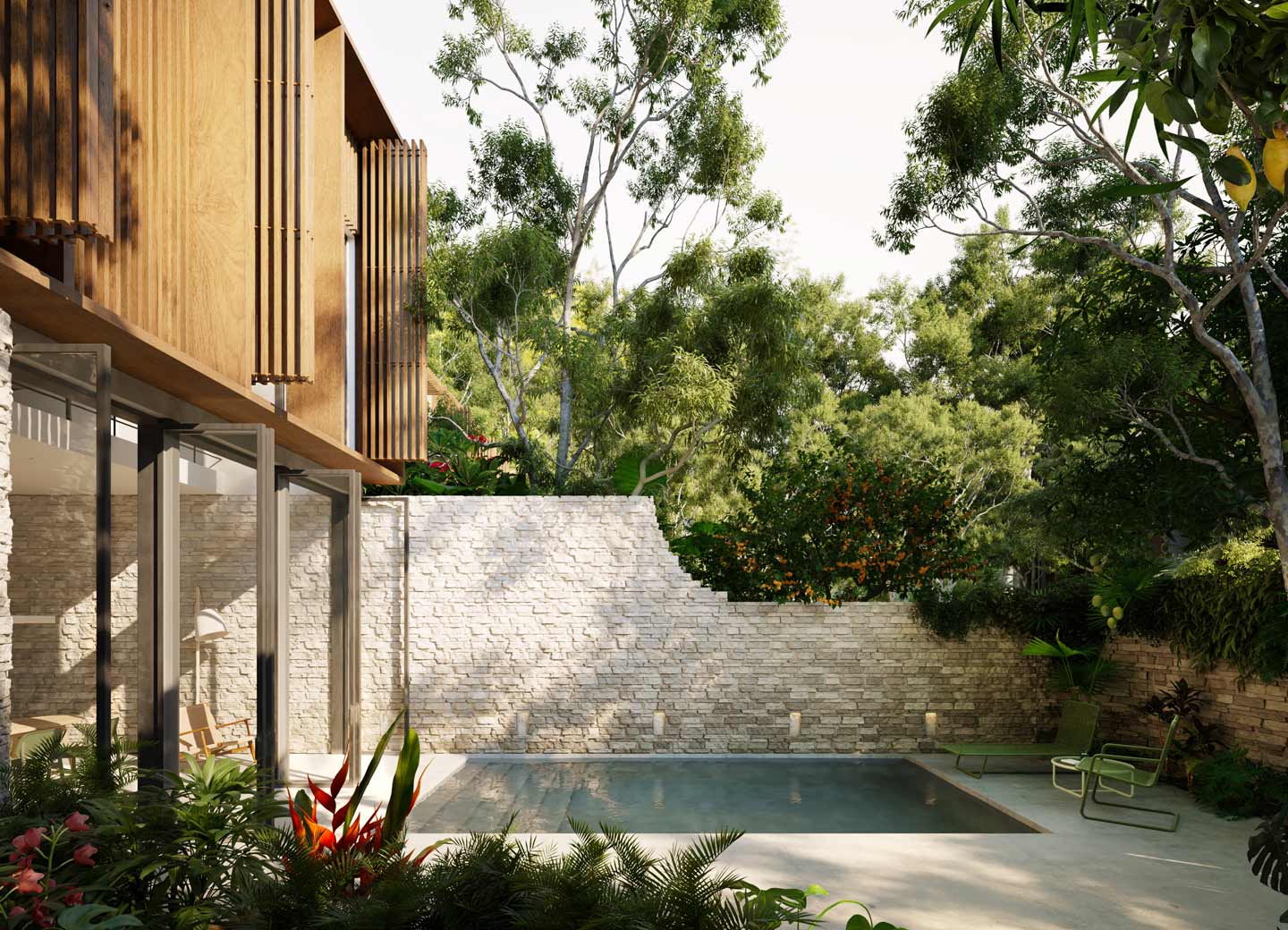 In its architecture, the traditional boundaries between inside and out have been reworked; the ground floor is now an extension of the verdant landscaped gardens, and vice versa, whilst private pools embedded in the landscape are reminiscent of the iconic "cenotes" for which the area is well known.
The houses are designed to be passively ventilated with fully openable facades on two sides. Clad in sustainably sourced local hardwood – full height, bi-folding brise-soléil on the upper floors provide privacy and minimise solar gain whilst allowing the natural breeze to cool the properties, mitigating the need for mechanical cooling.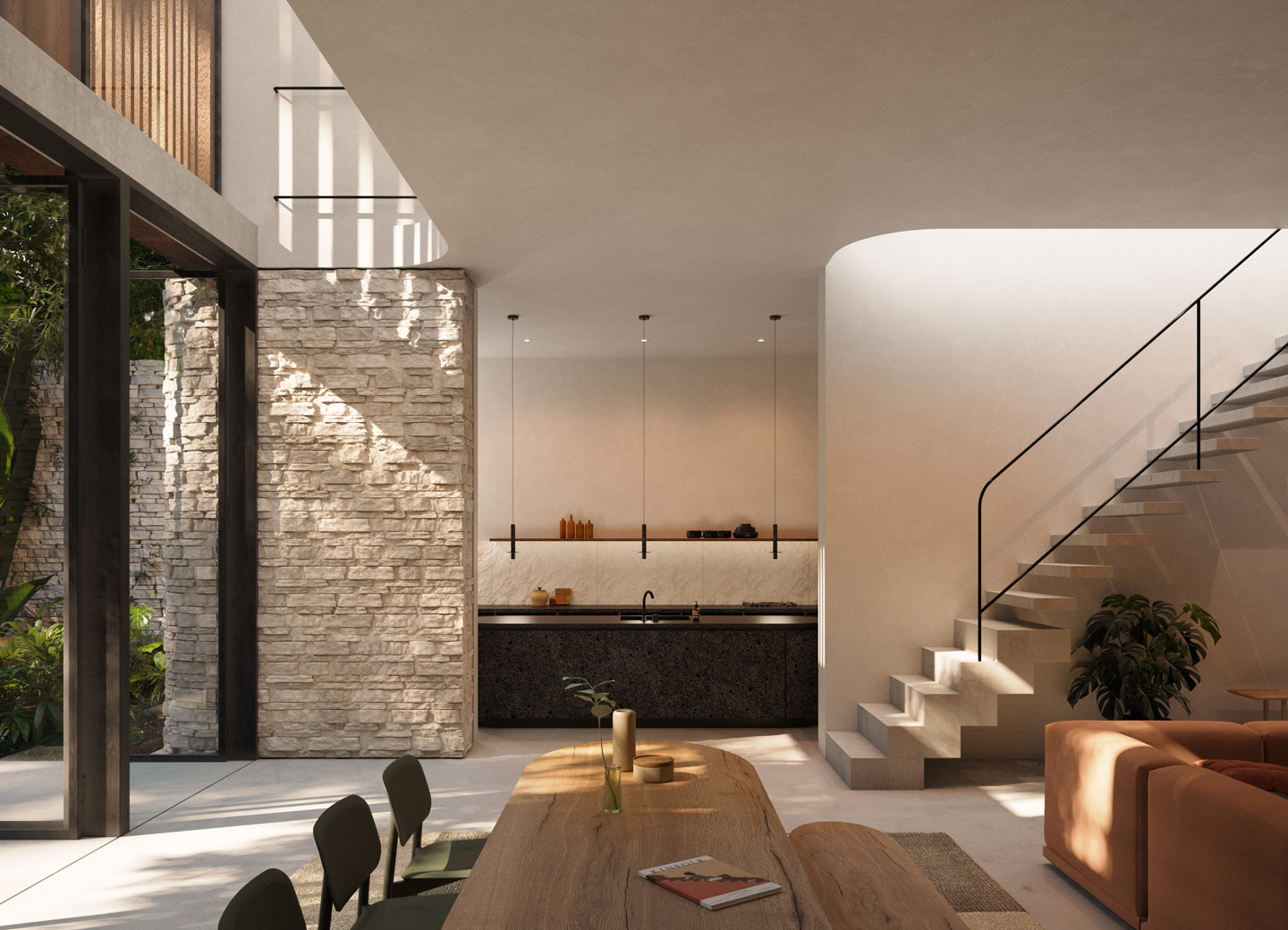 Inside, double height spaces and balconies assist the free circulation of air and create opportunities to frame dramatic views of the surrounding jungle. The rooftop palapa offers a 360 degree panorama of the forest canopy and intimate views of the tropical wildlife. A fully equipped kitchen, lounge and dining area encourage residents to spend time amongst the trees: true jungle living!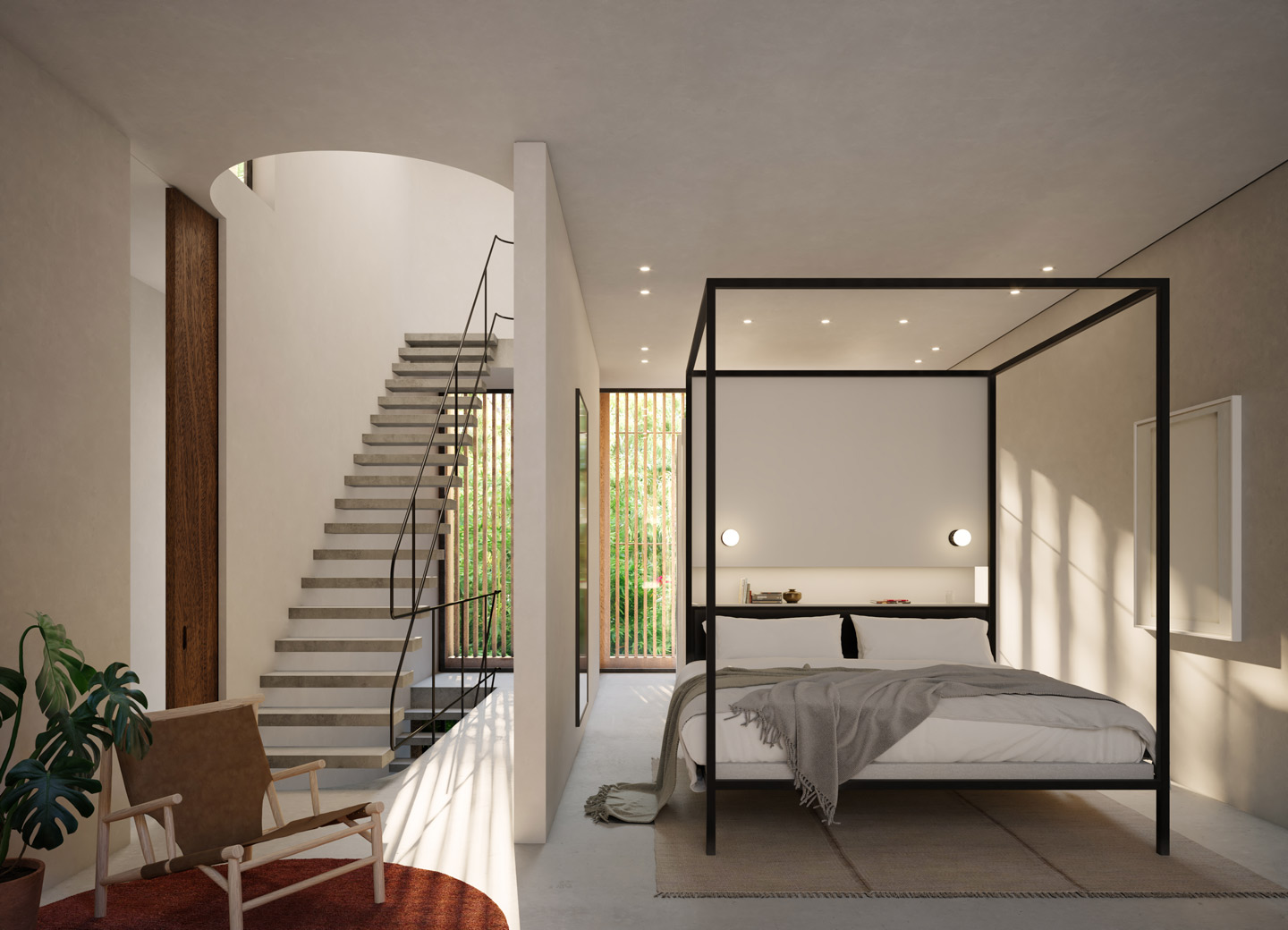 Founded by Richard Holland and Jonathan Harvey, Holland Harvey is a RIBA chartered architectural practice and design studio based in east London.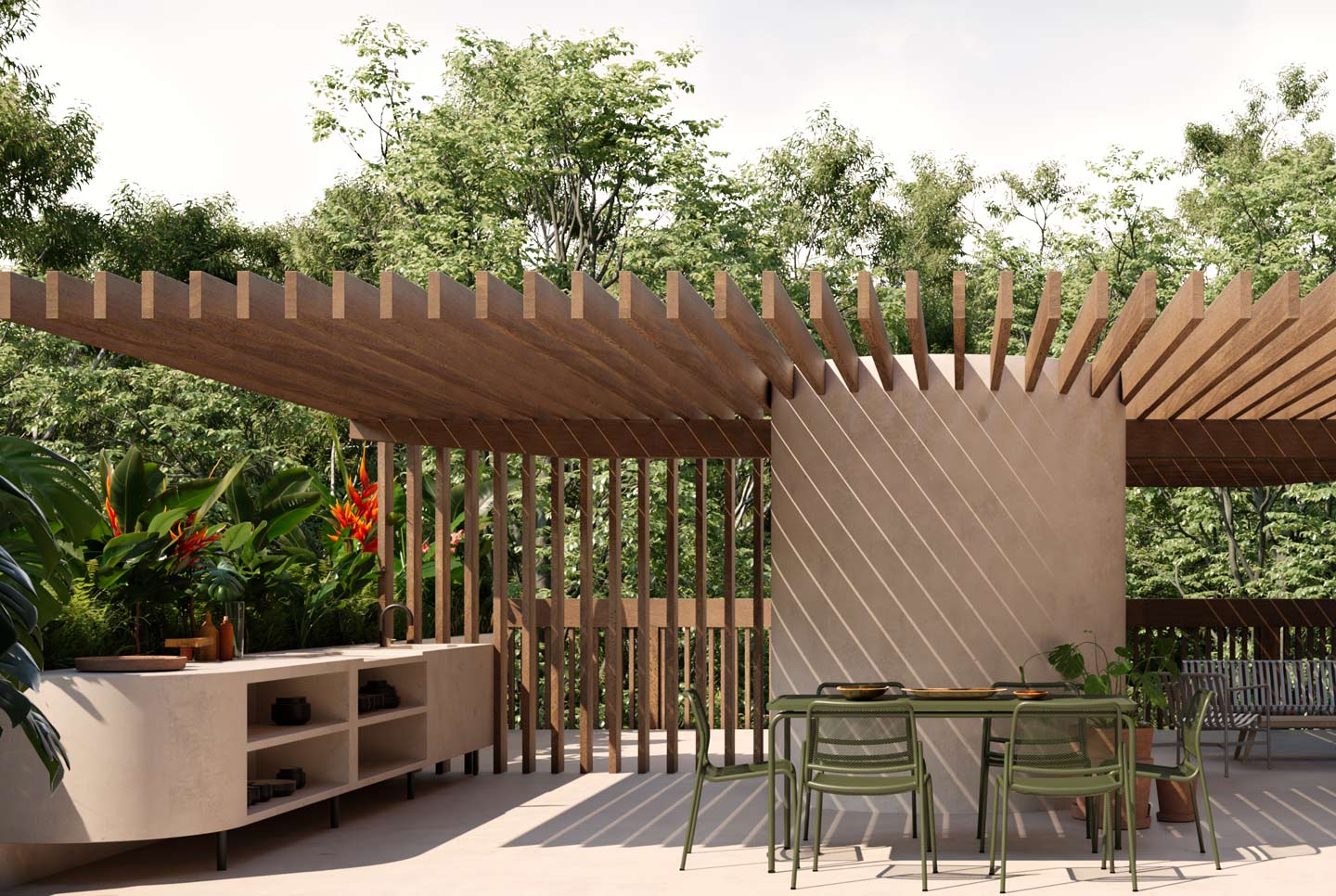 The company was founded on the belief that architecture should make a positive social impact, with an approach is that ethical, playful and pragmatic.