The Dutch are a football powerhouse and have enjoyed an alliance with South Korea which dates back to the FIFA World Cup of 2002.  On that occasion Guus Hiddink became the toast of a nation by coaching the South Korean team to its greatest single achievement; reaching the Cup semifinals. Korea and the Netherlands have switched the numerals around and hope to do it again in 2020. This time they have a long game in mind; a strategic play to build Korea's footballing future.
Amsterdam-based architecture practice UNStudio has created a masterplan for a new National Football Centre (NFC), which will be located 85 kilometres south of Seoul in Choenan-shi. It has assembled an international team of leading football stadium managers, pairing them with specialists in sports science and digital data collection. Together they boast substantial experience of working with top football clubs and training centres across the globe and the hope is that they can create facilities that will rival the world's best.
In the new NFC, the women's and youth teams share facilities with the men's national team. The youth training facilities are designed to cultivate top league players, with training from international coaches and special emphasis on an integrated approach to mental and physical health.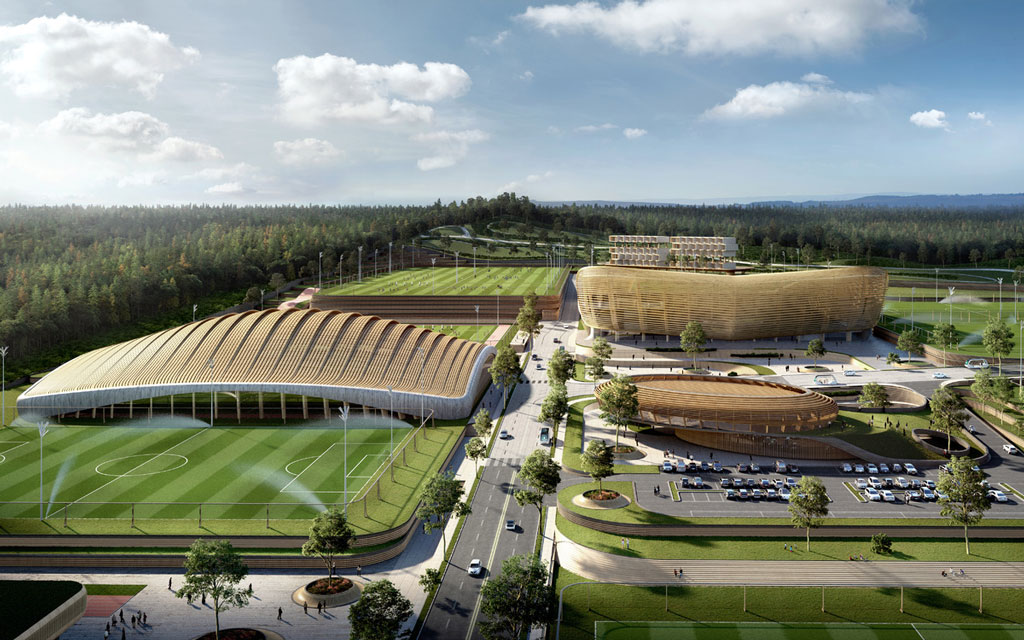 The masterplan draws on insights from sports science and data technology. It houses indoor and outdoor stadia and over a dozen sports field disciplines, running tracks and indoor gymnasiums. These facilities will be linked to a number of sports medicine centres, helping ensure that athletes achieve peak performance.
Over-training and endless repetition of the same routines causes harm and so variety is essential in helping players sharpen their motor skills and reflexes. Multiple training and conditioning techniques will be used to help improve performance.
While training and conditioning means there is a big focus on the body, the mind of the player is just as important. Mental health is closely linked to the body's development and nourishment. As a result, the campus provides facilities for the players to rest, relax and relieve stress, using a sympathetic material palette. Where possible, local natural materials of raw and exposed stone, timber, and textiles are used. Vegetation and green space is integral to the design, which is surrounded by farmland and rolling hills.
Digital technology will also play an important role, allowing coaches, management and health care services to track athletes' results. The UNStudio team has integrated technology into the built environment, allowing data collection on each user's health, activity, time, schedule allocation and other bio-metric information.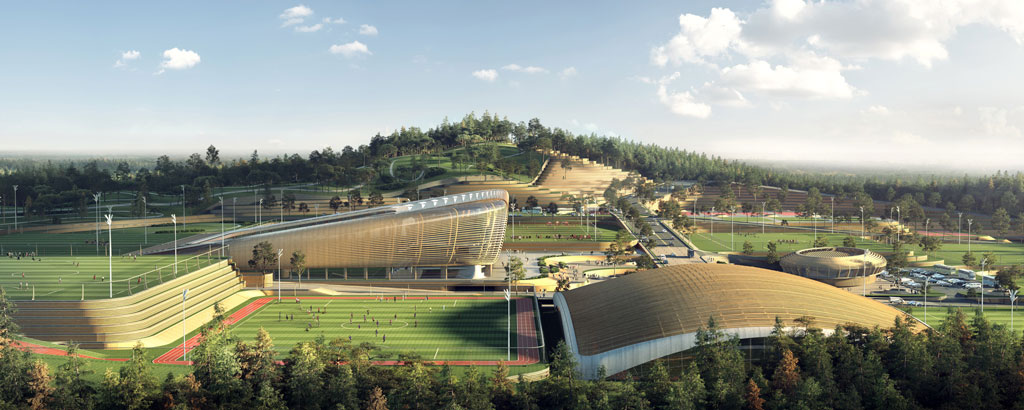 While busy creating world-beaters of the future, the centre is also intended as an attractive destination for football fans, who will drawi inspiration from the story of Korean football as they use the facilities.The focal point of the masterplan is the central public plaza, located at the heart of the complex. It is here that a football museum and the indoor and outdoor stadiums frame a public pedestrian area comprising restaurants, shops and a number of semi-public sports facilities set within a dramatic tiered landscape.
With hubs in Amsterdam and Shanghai, designer UNStudio is working on diverse projects across the world, including Australia's tallest tower. Known as Southbank by Beulah, it will give Melbourne a dramatic, twisting, 'green spine' of vertically connected terraces and verandas. The practice has several current activities in Korea, including creating a masterplan for the Gyeongdo Island sustainable leisure centre, designing a large retail complex with a double-skinned kinetic facade, and a museum. A smart centre masterplan for Bangalore and a cable car connecting China and Russia contribute to an exciting and varied design programme.