If your child asked, "Where do glass and steel skyscrapers come from?", you'd be pretty safe in steering them to the Big Apple. It therefore came as a major surprise when New York Mayor, Bill de Blasio recently issued a stern challenge, saying that the New York skyline would have to change.
"We are going to introduce legislation to ban the glass and steel skyscrapers that have contributed so much to global warming…they have no place in our city or on our Earth anymore," de Blasio said.
His remarks came only days after the New York City Council had passed legislation requiring buildings to reduce their greenhouse gas emissions 40 percent by 2030, or face millions of dollars in fines.
While towering curtain walls are still shooting up in cities like Dubai and Shenzhen, architects and urban planners in other parts of the world have begun speaking out about overuse of glass and steel, with their concerns ranging from sustainability to user experience.
New Zealand has adopted the curtain wall as it's default high-rise construction method, with major cities Auckland, Wellington and the rapidly rebuilding Christchurch continuing to glaze like there's no tomorrow.
The discussion raises the interesting question of how well New Zealand has been served by steel and glass towers and where the future might lie.
Karl Barker, director of architecture firm, Construkt Associates notes that curtain-walled skyscrapers can have a big impact on temperature and light in downtown environments.
The reflected light and heat from these buildings is significant - in some cases bad enough to melt roads and dazzle motorists," he said.
"I saw some analysis after that big heat wave in Europe, where they did some testing on a couple of streets in the same location in the central city. One street was all glass and concrete and stone, and it was about 50 degrees Celsius. The other street, same buildings, but tall with trees, was about 30 degrees Celsius," says Baker.
But the environmental impact outside is only half the issue. Air conditioning required to cool curtain-walled skyscrapers draw enough power to brown-out some cities when heat waves hit.
"We're pushing with our developments to make streets narrower, getting everything as narrow as possible in order to get as much developable area as possible," Baker says.
"And because of that, the floor plates have got too big for the air conditioning system inside the buildings," Baker adds.
"So, all the people out on the glass on the outside end up having offices with individually controlled air conditioning units, and they're quite comfortable. But the poor saps in the middle of the building are either frying or they're freezing."
Karl acknowledges real financial pressure to get as much building on a site as humanly possible. "It's all about the yield, and developers are pushing it harder and harder all the time", Karl adds.
Karl Barker has a pragmatic view about glass cladding, observing that it's the easiest way to meet the requirements of the building code, with none of the problems of cladding in timber or aluminium.
He believes curtain walls are here to stay, but thinks a 50/50 mix of glass and panelised systems is the way things are heading. He also sees a lot more being done to control wind, the sun's heat and reflection.
European-inspired double skin walls and slat shades or fins on building exteriors are solutions Karl identifies to help manage heat and reflection. But, he notes, those double skins remove leasable space, so it will take an environmentally minded developer to view that as an option.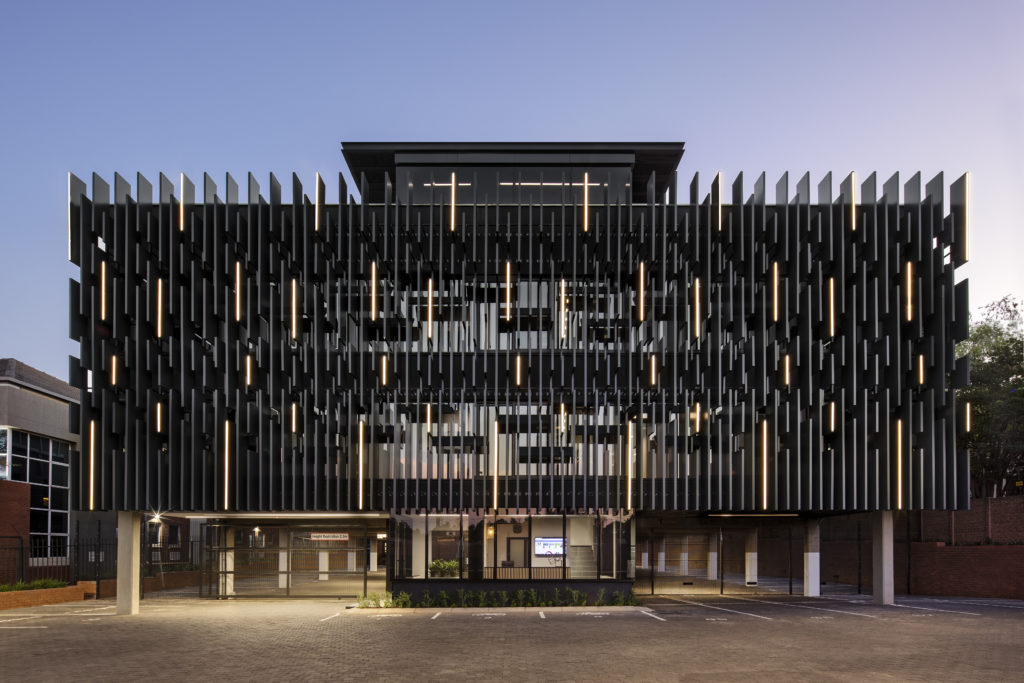 Credit: Daffonchio and Associates
Karl believes designers and developers must exercise a social conscience. "Think about the surrounding environment; the building's going to have an effect on other people", he says.
Not every recent development in New Zealand is adopting the curtain-wall, however. A recent example of a large project getting back to nature is the Union Green project by Peddle Thorpe Architects, designed in partnership with Fearon Hay, a large scale residential development situated on the fringes of Auckland's CBD on Union Street.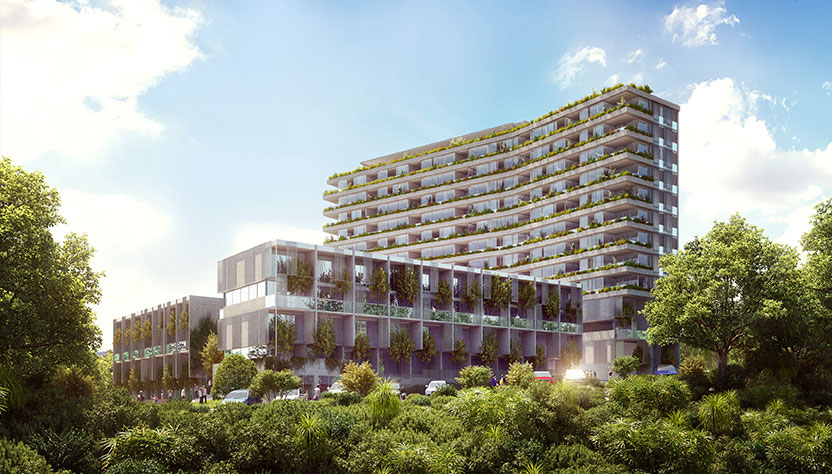 Credit: Peddle Thorpe Architects
This high-end development features 155 units, consisting of 1, 2 and 3 bedroom terraces and apartments. The lower four levels primarily comprise of terrace houses featuring stunning living areas and lanais. On the southern boundary above terraces, stands a multilevel apartment tower offering spectacular views over the development and Waitemata Harbour.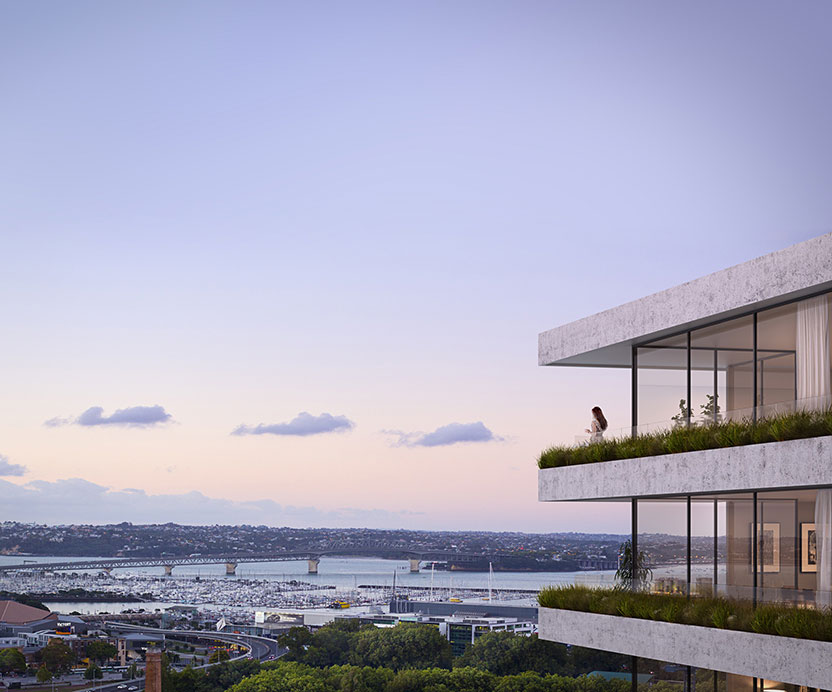 Credit: Peddle Thorpe Architects
As the title suggests, one of the key focuses of the project was the 'green' aspect of the design. This means each dwelling having access to various planting initiatives, lush through-site laneways, enhancing public connectivity and creating communal spaces to achieve an overall unique 'sense of place'.
Dandan Zhang from Auckland Construction Group, the company that did the timber joinery for the project says that it is an example of how big projects can be more creative and more sustainable.
"From the angle of environment, architects definitely should reduce the use of glass to care more about climate change or other environmental issues. Profit should not be the only things constructors pursue," says Zhang.
She says that ACG is dedicated to seeking as many environmentally sustainable materials as possible to replace traditional ones.
"Due to the unique function of the glass, there may not be a better solution to completely replace them now, but what we can do is to be more innovative in the design, such as creating more texture, or creating shadow lines, making sure to reduce the damage to the environment as possible.
"Also projecting balconies can perform better than inset balconies in some areas. Those tiny adjustments may be the first steps for us to take to reduce the glass use in future projects."
"In our opinion, we strongly encourage replacement of glass in future innovational skyscrapers, and we think local government should work together with construction companies to design policy for the limitation of glass in some certain projects, to reduce unnecessary waste," Zang says.
Piers Bowman of Plus Architecture begins by setting technical issues of full curtain-wall glazing to one side and poses the rhetorical question of whether a glass city is an adequate design outcome. As he sees it, Piers feels industry figures have a responsibility to think about what kind of development they are creating:
"There's a whole bunch of studies on how the built form of a city affects people's mental states. I do think the glass box can have an immense impact on how people experience and identify with a city."
He believes modern building has been driven by product innovation, delivered at an affordable price, rather than from considerations of form, sustainability, or people's wellbeing.
"In terms of architectural styles, I think technology quite often dictates what the form and what the look is. Someone develops a new particular sort of product or a new low-energy glass or whatever it is - if it's something that's affordable, then it's something that's people tend to use.
"For example, I was recently doing a bit of work in Vietnam, in Ho Chi Minh City. And the whole city transforms at night – it has very monotonous architecture by day, using the same construction techniques, which has just resulted in the same aesthetic - but the way they differentiate themselves is at night with the LEDs."
"It's fantastic for walking around and sort of atmosphere at night, but it does need to be tempered. I don't think it would be appropriate in the location here. It would need to be quite confined, because it is pretty bright."
Piers thinks returning to a smaller scale and embracing the 'local' might be one way forward. More use of laminated timber, and drawing on New Zealand's great strength in sailing technology could help reduce the carbon footprint created by imported products.
"I'm not sure if it's going to happen or not, it's more a hope than a direction. People are getting more into organic, whole foods, locally grown, locally sourced, and I would like to see that trend happen with the  construction industry - that craft element coming back.
"What originally defined the city's design culture was that people built and designed with the materials they had, and they designed for the local traditions. And then the whole international movement pulled away from that."
Piers' outlook included a recent trip to Chicago to take in the work of Louis Sullivan, the influential American architect known as the "father of the skyscraper". Sullivan's buildings show that it needs to be an integrated system, with all its elements working together.
He believes Sullivan's extant work shows that it is possible to achieve great form while meeting the functional needs of users. "They're all brick and steel. But I think they're much more comfortable places for working and extremely attractive as well. You can have your cake and eat it too..."
Eating that cake will require some careful balancing.
"It's a learning process and it will take some education from us and from the suppliers to really sort of educate the clients - to push for more of a holistic approach to the design, rather than just what the external envelope looks like."
"I think people get carried away with transparency really. And I think that's kind of the fundamental flaw of just plating things in glass. The curtain wall sold a dream, but I think it's a process that we're still learning and sort of adapting to, to realize what the negative effects are."
"I think a few of our clients are beginning to listen now - elements like Green Star ratings are a great education tool to help people understand more about what the impacts are from these aesthetic decisions that are made."