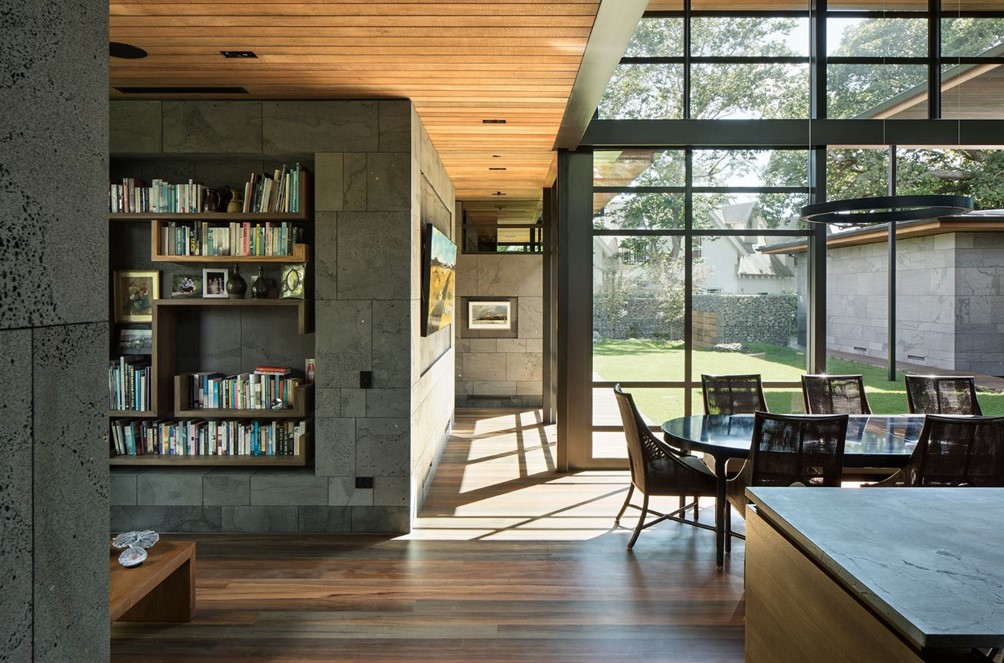 Located close to one of Auckland's volcanic cones, this immaculate Devonport home creates a sense of serenity with open continuous spaces.
Taking cues from the surrounding environment, the pavilions are conceived as a collection of boulders placed in the landscape. Based on a courtyard model, spaces are grouped according to function; each group of rooms connected, but individual.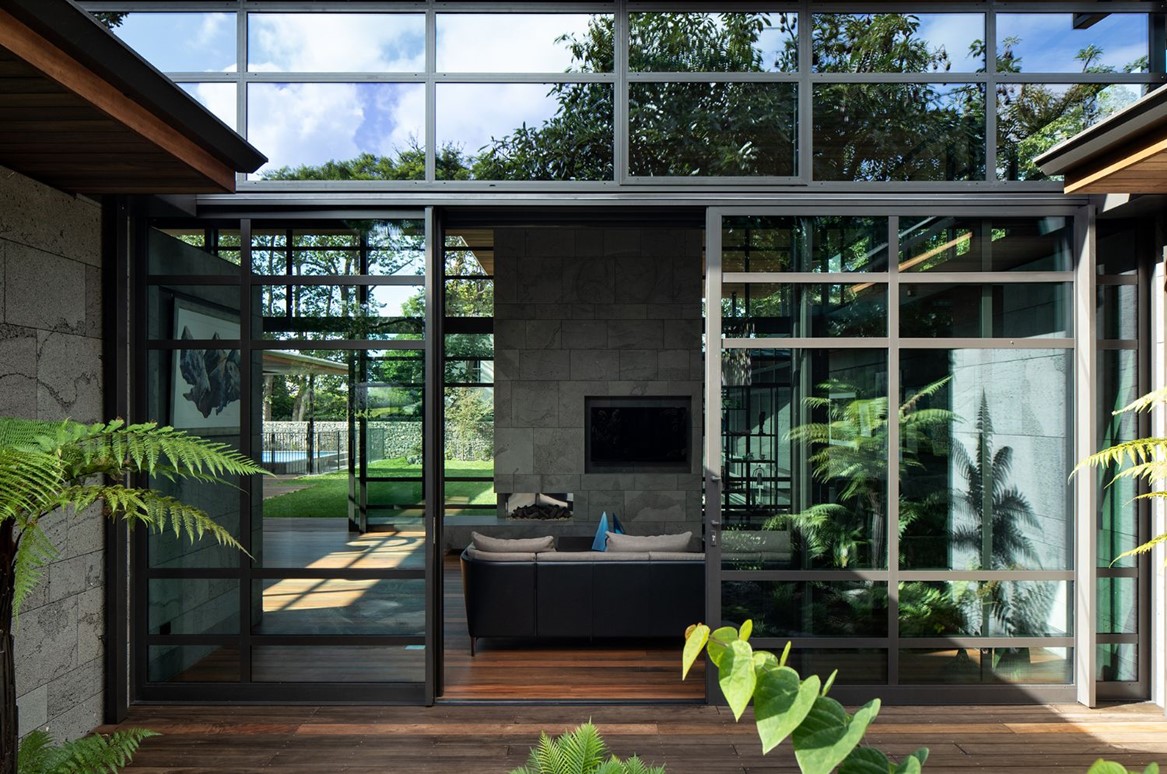 The design has strong references to New Zealand's geological history and materials play an important role. Volcanic basalt cladding wraps from the exterior through to the interior in consistent layers, only varying in surface texture from a rough exterior to a smoother internal finish.
A large floating pavilion roof stretches out from the main living area over the entry deck and covered walkway. The ceilings, soffits and floors are made of Totara timber, milled from 100-year-old river logs. High windows reinforce the illusion of a floating roof, while allowing warmth and light inside.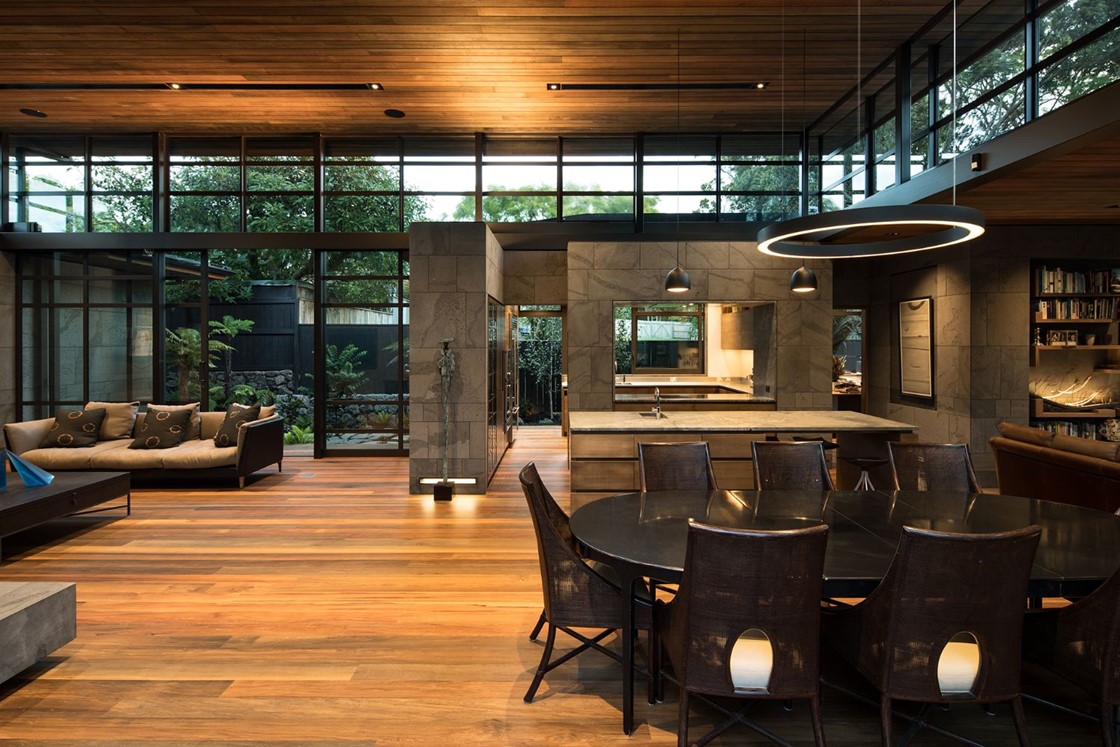 In the main living space, large sliders open up to a central courtyard and several smaller courtyards, creating continuous indoor-outdoor flow. Transparent walkways made up of large windows connect the stone-clad spaces, providing transitional areas with views out to the gardens and surrounds.
The extensive use of windows and doors throughout the design brings the homeowners closer to their tranquil outdoor setting. The windows brighten spaces and create light plays that dance across the walls, floors and ceilings throughout the day. Low-E performance glass ensures a comfortable temperature year round.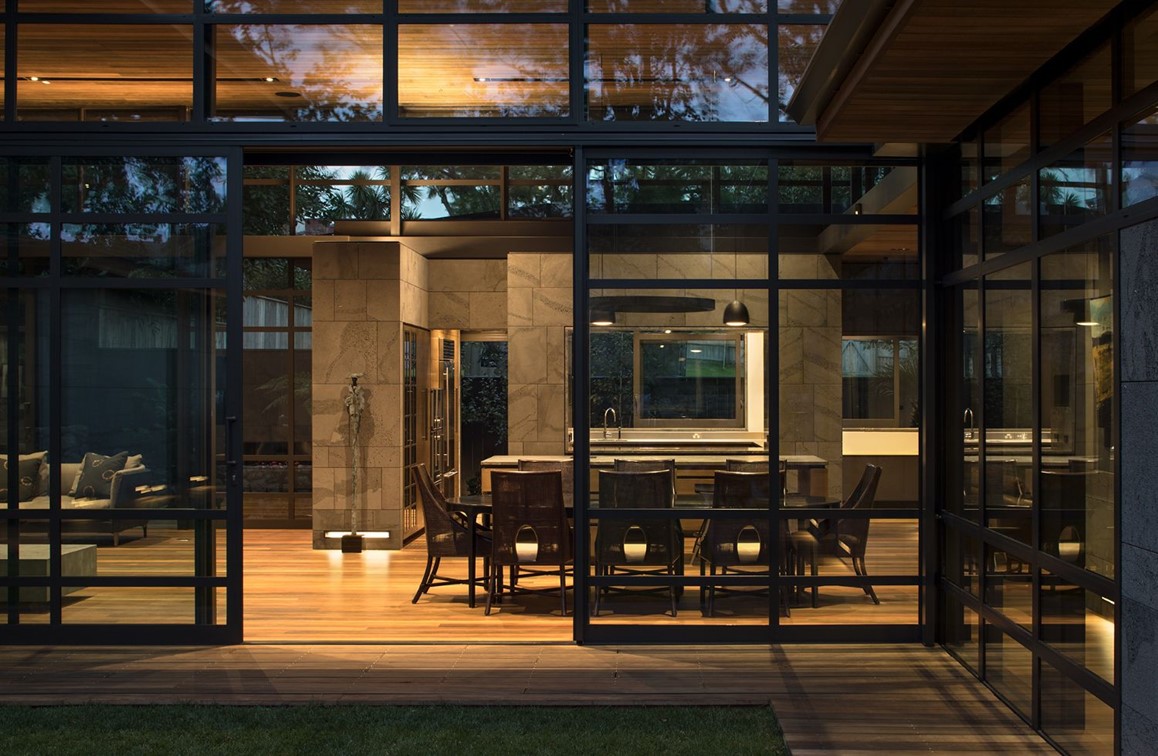 The Fairview Architectural range of windows and doors provides the strength required to hold the large panels of glass, but still achieve a refined look; recessed to create clean lines and a visual connection to the internal stone.
The exquisite level of detail throughout the house is mirrored in the work done on the windows and doors. Fairview window and door manufacturer, Fairview North Shore collaborated with Rowe Baetens Architecture to ensure every aspect of the joinery lined up with the stonework throughout. Everything was templated, and sample joinery was produced to ensure it all fitted together perfectly.
The end result is an award winning home that brings a sense of calm and contentment from within.