Described as a "light filled, lofty and playful museum", the 70,000 square foot, four-storey El Paso Children's Museum designed by Snohetta celebrates the unique culture and geography of El Paso while providing unlimited access to educational opportunities.
The El Paso Children's Museum leadership and award-winning international architects from Snøhetta unveiled the final designs of a one-of-a-kind building which will be located in the heart of El Paso's Downtown Arts District.
Through the inspiration of geometric shapes and the Chihuahuan desert, the museum's unique geometries set it apart from the El Paso sky line. The rectilinear base is encased in glass which provides interior views to the passer-by.
The building is topped with a barrel-vaulted roof that resemble a drawing of a cloud, "floating above the desert connecting all people in this important place, young and old alike," Snohetta said.
The museum is set to provide ample outdoor public amenities, such as streetscapes, gathering areas, and gardens with influence of the Chihuahuan desert. Snohetta intends to use local plants and natural boulders to reference the surrounding deserts of El Paso.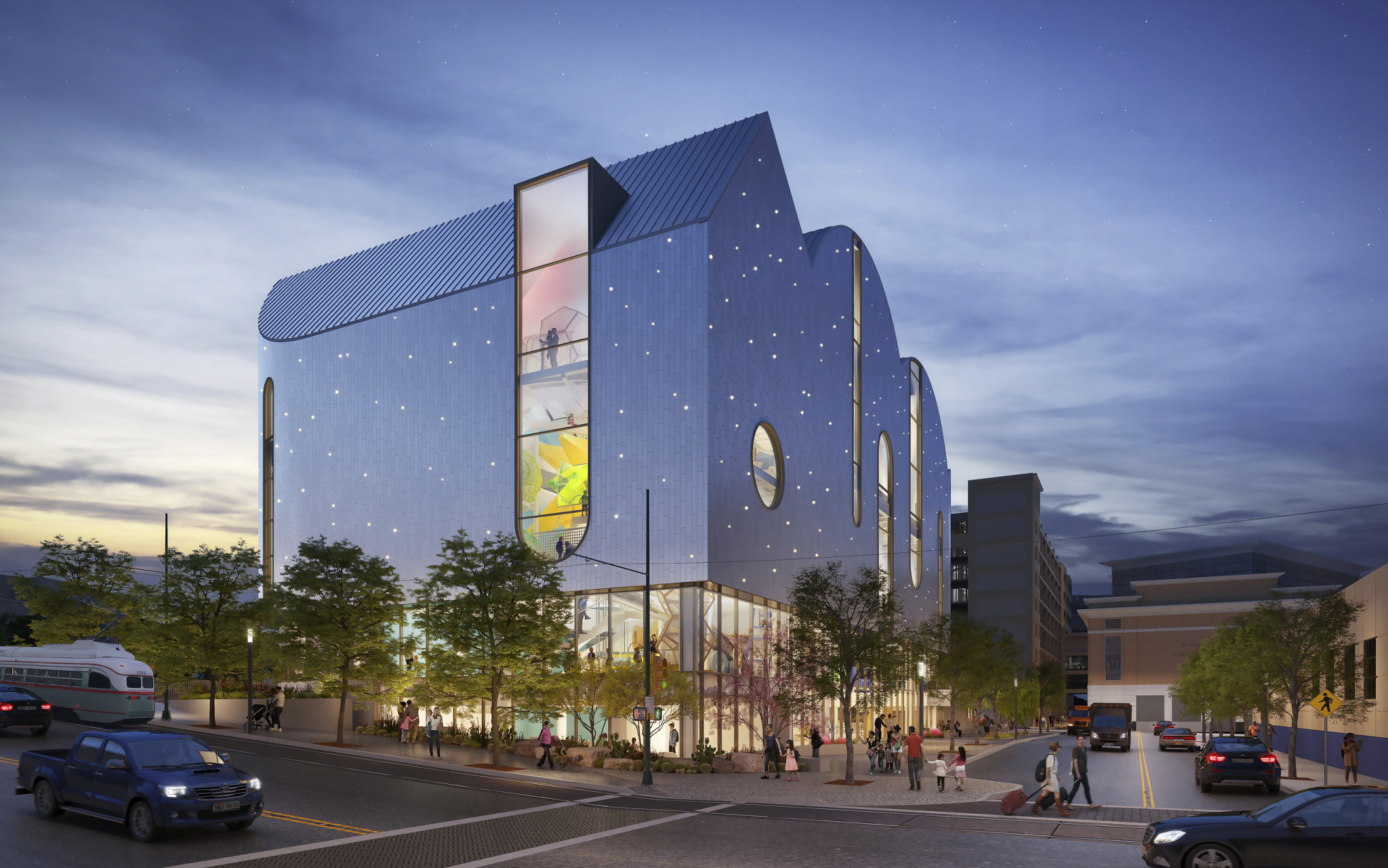 The first floor is a light filled open space that contains a café, exhibitions and the grand entrance to the learning landscape. This 60 foot atrium offers views of a climbing structure which spans the second to the fourth floors, offering pathways which accommodate multiple forms of access and mobility needs.
The Children's Museum is set to be an integral part of the educational ecosystem of the community, and will contain a range of interactive learning spaces which stimulate imagination, creativity, innovation, and lifelong learning.
Snohetta's design considers how the museum itself can become a learning tool, where spaces and exhibitions inspire the imagination of both children and adults.
Gyroscope, an award winning architecture and design firm, is currently designing the exhibitions for the museum. They are a highly imaginative firm with their projects spanning internationally respected museums and science centres.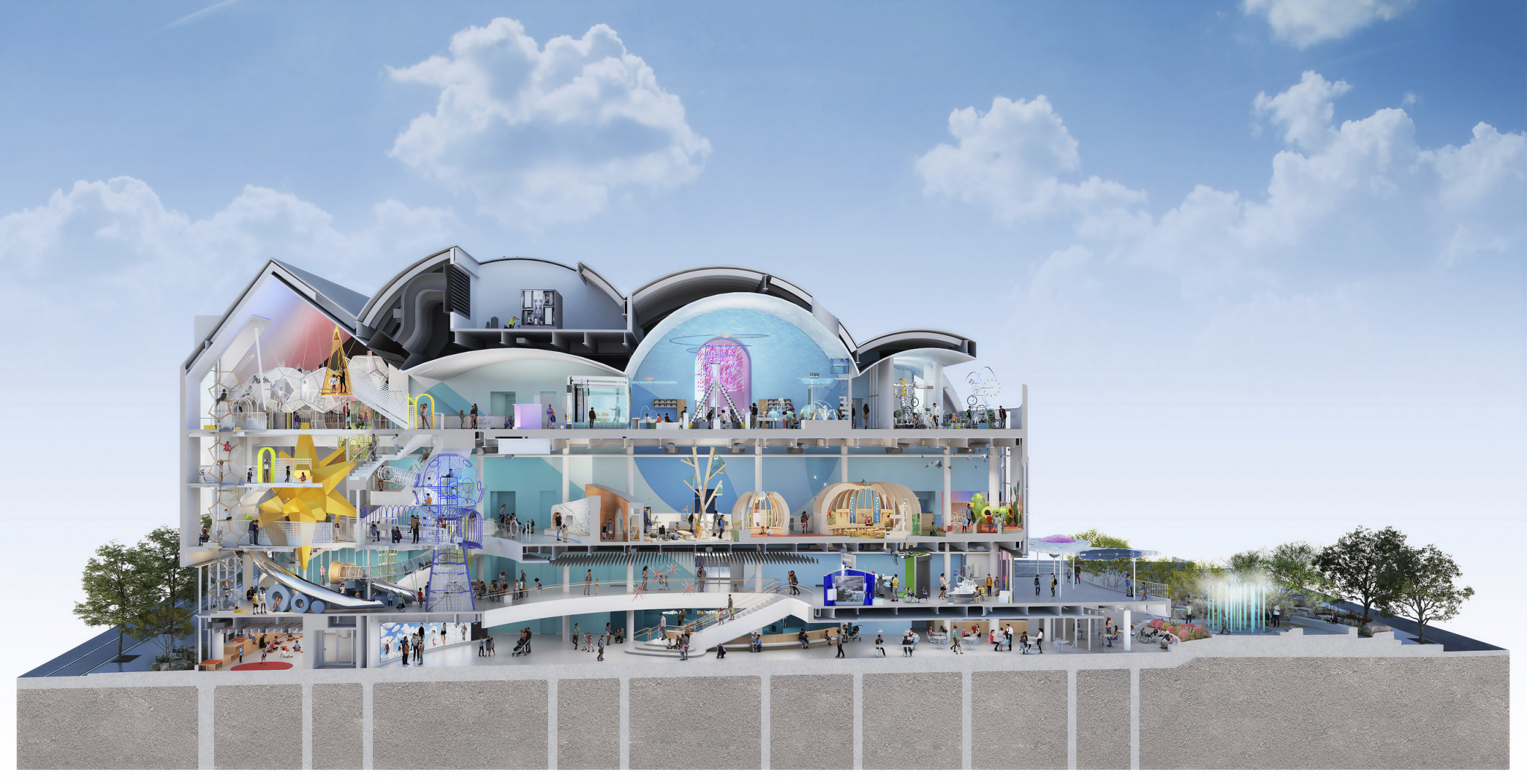 Gyroscope ensures than their exhibits and visitors experiences will be of high impact, and will act as a portal to possibilities beyond, a place to dream big and discover that anything is possible.
The exhibits will have no instructions because there are no limits to the interactions. The museum will be specifically designed to maximize open-ended and imaginative play and exploration.
The museum caters to children of all ages, where the youngest visitors (0-3) have a dedicated area, "Desert Bloom", where they can safely crawl, walk and run. The area is inspired by the Chihuahuan desert and provides access to many motor activities, as well as auditory interactives to allow babies and toddlers to practice speech sounds.
For older children, there is an extensive variety of interactive areas. "Big Skies" allows visitors to predict the weather, harness renewable energy, and navigate a research vessel through a storm. "Fly High" allows visitors to design, build and launch paper aeroplanes into a test flight path, and analyse their flight data in order to refine their flight and planes design.
Snohetta have also added a number of outdoor exhibitions so that visitors can make the most of the Texas sun. "Flow" is an indoor/outdoor zone which transforms everyday experiences into science. Through a window into the pump room, it showcases how water that we use is treated and recycled, and allows children to play in water.