One hundred and seventy years ago, Joseph Paxton's sketch on a piece of blotting paper gave rise to a massive glass house that became known as the Crystal Palace, and with it, the world fair. For the first time since global exhibitions began, the nations will descend on the Persian Gulf in October 2020 in Dubai.
UAE's Pearl of The Emirates pavilion aims to be the jewel in Dubai 2020's crown and has been designed by a team from COOP Himmelb(l)au of Austria. The Expo's theme is Connecting Minds, Creating the Future' with special emphasis on 'Opportunity', 'Mobility' and 'Sustainability'.
Deriving inspiration from these themes, the pavilion also acknowledges the important role that the pearling industry played in sustaining the local community before the transformative discovery of oil.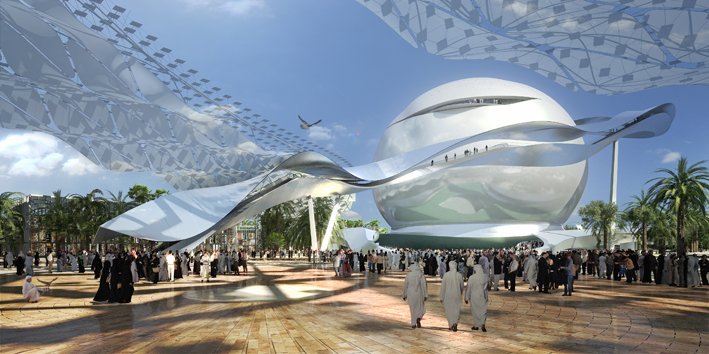 The Pearl will stand above a landscaped lagoon surrounded by a sustainable garden of native mangroves. Several smaller 'pearls' set within the landscape are actually desalination plants providing water of reduced salinity to ensure the mangroves continue to thrive.
The pavilion consists of seven individual petals faced with white marble. As the sun tracks across the sky the Pearl comes dramatically to life. Each petal  opens and closes to reveal the exhibition spaces of the seven emirates within. In this way the pavilion's response to the ebb and flow of day and night echoes the expo theme of past, present and future.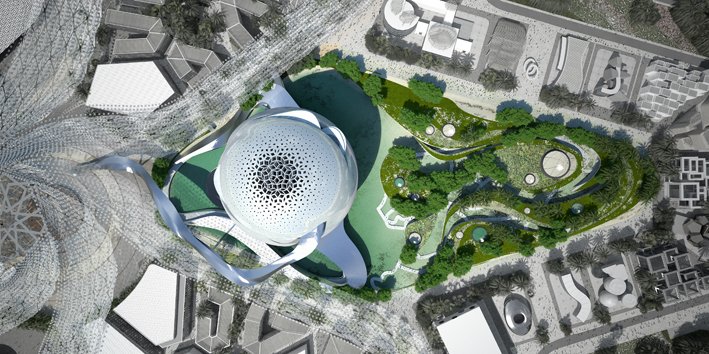 With 25 million visitors expected over six months, careful thought has gone into how best to manage their passage through the pavilion. Pedestrian flow technology used in major airports will minimise queues and waiting times and eliminate points of potential congestion. Hand-held devices provided to visitors will outline individual visit times and how the pavilion experience can be optimised.
Three access points have been created to help visitor movement to the platform that sits on top of the pavilion. The primary means uses two large bridges, taking visitors to escalators spiralling upwards inside the Pearl. A second accessway is the poetic 'Falcon Flight', ushering visitors directly to the top of the building and affording dramatic views of the exhibition area and the Burj Khalifa tower some distance to the north. A third option is the lift access provided VIPs.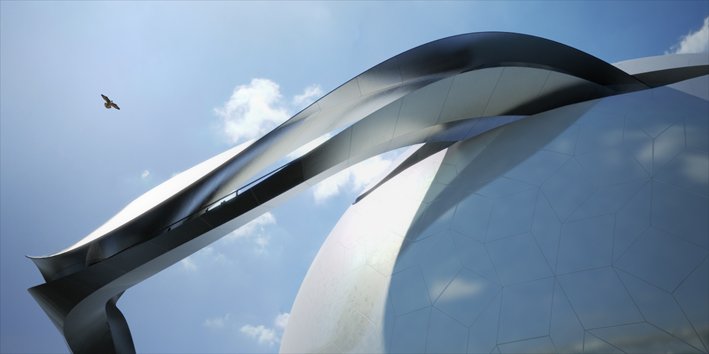 An underwater glass roof provides an additional facet of the visit, with the entire journey through the pavilion symbolising the connection between earth, sky and sea. The exhibition path ends in the basement, where an auditorium, multi-media room and retail spaces await.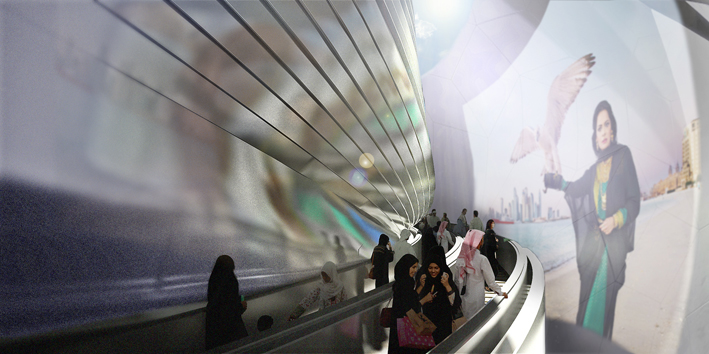 Designer COOP Himmelb(l)au is no stranger to exhibitions, having previously worked on the sixth national Swiss expo in 2002. The award winning architectural practice, established in Vienna in 1968, has several offices around the globe and wide experience of Europe and Asia. Its dramatic structures have included many cultural facilities and museums of art, architecture and design.