Is it a building? Is it a waterfall?
Japanese-born, Sydney-based Kokchi Takada has studied in New York and London and practiced in Tokyo and Sydney, but he's not a big fan of the concrete jungle. It's the waterfronts, parks and gardens in these places that draw him in. His great passion is design projects that explore and blur people's perceptual boundaries.
Takada is a proponent of integrating nature within cities and embodying the essence of a garden within the built environment.  By using foliage in his designs and employing green roofs or vertical gardens he believes it is possible to provide a refreshing escape. As Takada sees it, nature shows that architecture should provide more than just intriguing and beautiful forms.
Kokchi Takada Architects' latest project to blur boundaries is a south Brisbane tower that will blend 216 residential apartments with the world's highest artificial waterfall.
The 118-meter high water feature will run the full length of the tower's western elevation. Water will start off from the rooftop infinity pool and cascade down glass panels, providing a visual division of the tower into two parts. Reaching  the tower's podium the water will dissipate with a misting effect on its green walls and ground level planting. The mist will refresh the plants, provide clues to the water features in the building's design and create a cooling effect for pedestrians and visitors arriving at the retail section.
Architectural design features include expansive green walls covering large portions of the tower's façade, especially on the long west-facing side, which is heavily shaded using screens and green planting. Overflowing planters will complement hanging gardens on this side of the building.
The waterfall draws on a rooftop rainwater tank and requires less than 250 litres per cycle. It comprises a series of linked internal and external water walls, running down angled pieces of textured glass to maximize the visual impact while minimising community concerns about troublesome water spray.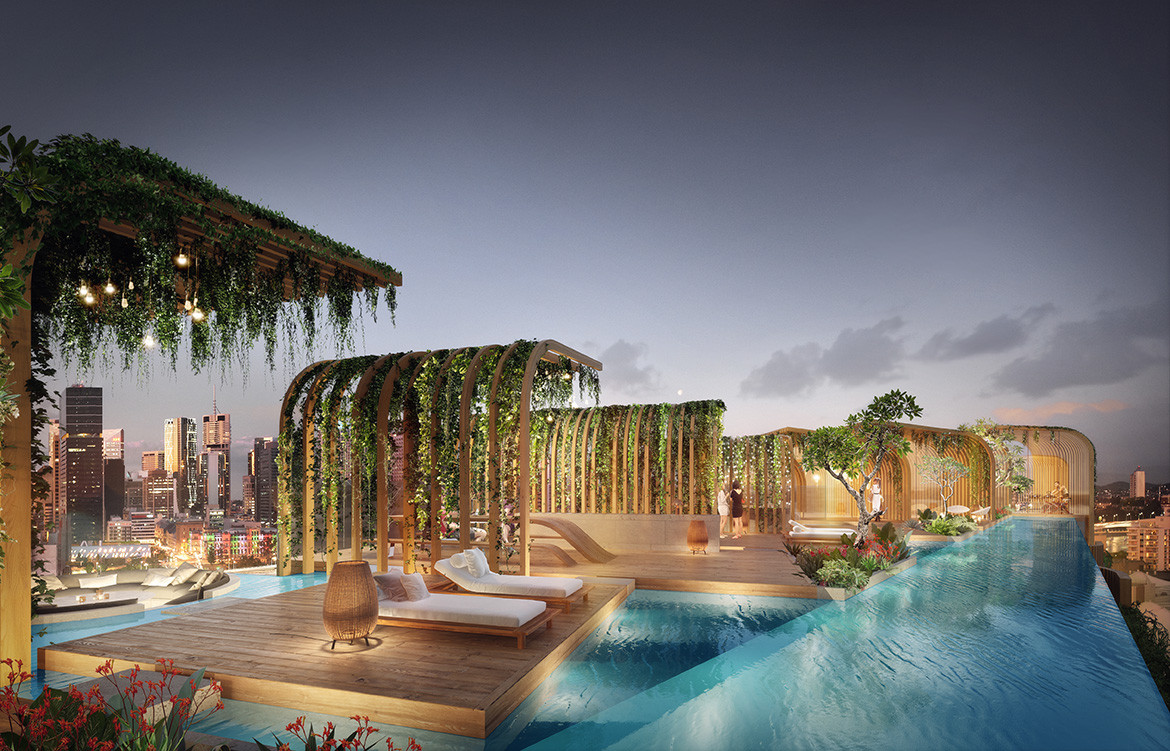 A recreation deck on the roof features a wide range of facilities inside and out, including great views towards the Brisbane River and the city's CBD.  A gym, yoga room, theatre and dining rooms feature inside. External amenities include a 50-metre lap pool, a barbecue area, sunken lounges and landscaping.