Located in the heart of Hong Kong's central business district, Zaha Hadid's new 36-storey, 190m Murray Road project replaces an unsightly multi-storey car park to create a dramatic urban oasis in the heart of Hong Kong.
The car park was purchased by developer Henderson Land for HK$23.3 billion ($3 billion) in 2017, making it the world's most expensive site according to local news agencies.
The skyscraper will be built alongside the Bank of China Tower, adjacent to Chater Garden and within a short walking distance to both Central and Admiralty MTR metro stations.
Zaha Hadid's design for the skyscraper features a glass facade made from a series of curved segments that rise to form two sets of open-air balconies filled with trees. According to the studio, the building's form is based on the shape of a bud from the Bauhinia plant, which was previously grown near the site and is the flower at the centre of the city's flag.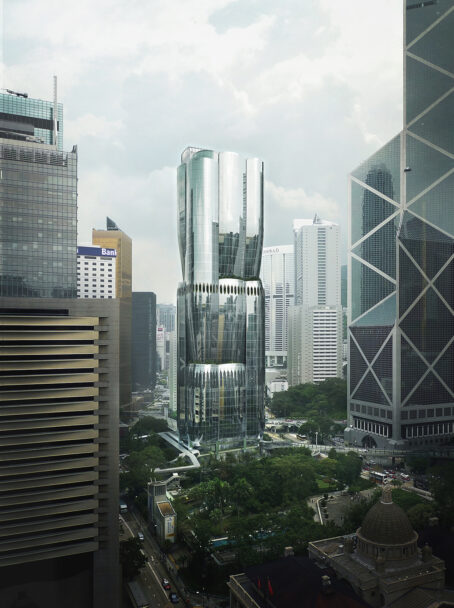 With its base elevated above the ground to shelter courtyards and gardens, the design creates new civic plazas that are enveloped by nature, cultivated with trees and plants in the centre of one of the world's busiest cities.
Tranquil outdoor areas will flow into generous communal spaces, connecting the building with adjacent public gardens and parks, echoing organic forms of the natural world. The precision of the curved glass façade enhances seamless connectivity between the building's interiors and the surrounding gardens and city beyond.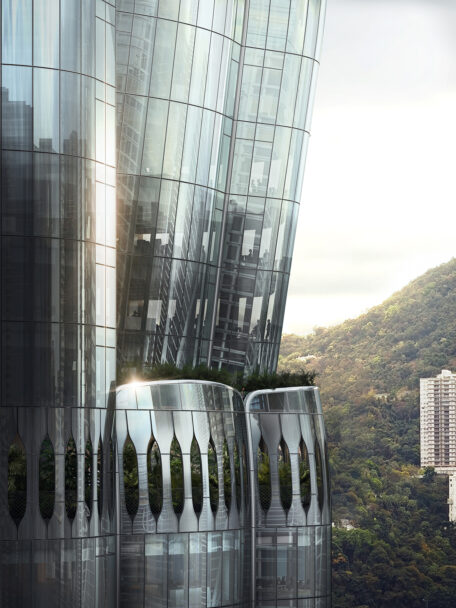 An enclosed sky garden located two-thirds of the way up the skyscraper will also house a running track. And at the top of the skyscraper, an enclosed banqueting hall will have views across the city.
The main body of the skyscraper will be elevated above the ground and connected into Hong Kong's network of raised pedestrian walkways, with a series of courtyards and gardens placed under the building.
The skyscraper is to be made with a high-tensile steel structure and clad in four-ply, double-laminated, double-curved insulated glass units.  It has been designed to achieve a sustainability rating of LEED Platinum and the highest 3-Star rating in China's Green Building Rating Program.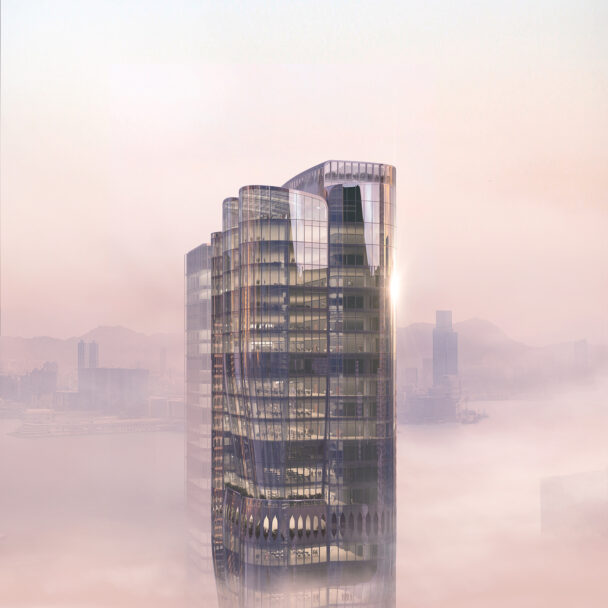 When it is complete, 2 Murray Road will be Zaha Hadid Architects' second project in the city, along with the 78-metre-high Jockey Club Innovation Tower on the Hong Kong Polytechnic University campus, which opened in 2014.
Founded by the late Zaha Hadid in 1980, Zaha Hadid Architects is now led by Patrik Schumacher. The studio has recently revealed designs for a metro station in Moscow, a stadium in China and a housing complex in Honduras.